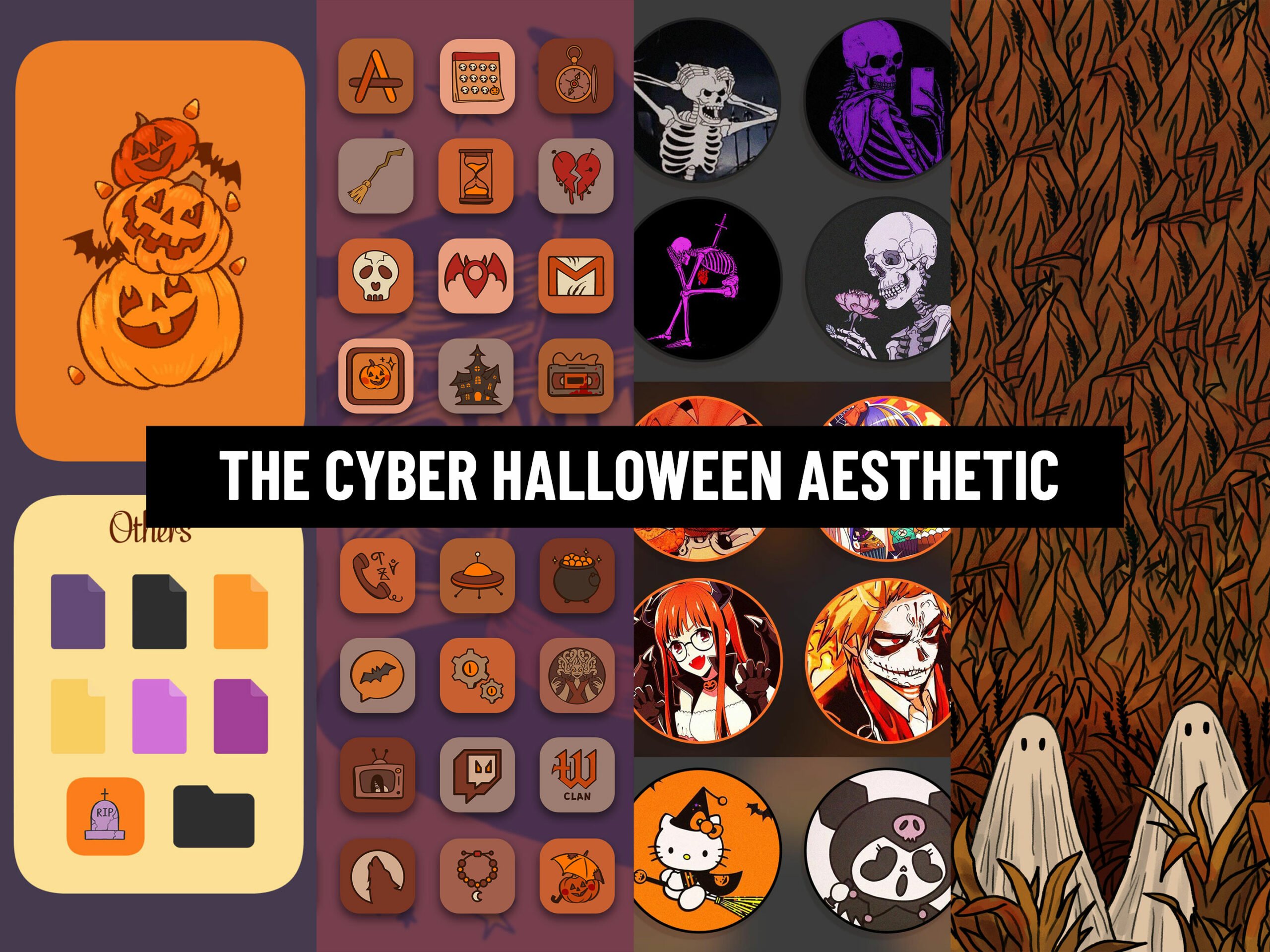 The Cyber Halloween Aesthetic
Cyber Halloween Aesthetic: Where Tech Meets Terror
The most spooktacular holiday in the world is coming! Many countries in the world will celebrate Halloween in a couple of weeks. However, this year, the W-Clan crew decided to open a kind of Halloween embassy on their website. It will be useful for all the people, that start their preparation for this creepy holiday right on the 1st of November. We have created and composed the most bootiful projects – that can help you to decorate your devices and make them more Halloween-friendly. Thus, choose what you like the most, and BOO!
Halloween Aesthetic App Icons_
Halloween App Icons vs Halloween Minimalist App Icons_
These two aesthetic sets are created directly for the Halloween customization of your smartphone. You'll find lots of unique icons, widgets, and wallpapers that let you plunge into the festive atmosphere of grinning pumpkins, scary stories, and sweet candies. Thus, charge your phone with a Halloween atmosphere and have fun to the fullest with our Halloween app icons!
Coraline App Icons VS Castlevania Symphony Of The Night App Icons_
What can be better for a bootiful Halloween eve than chilling out with your friends and family, and telling scary stories? Another great activity can be watching scary movies or playing some epic games. Just for this occasion, the W-Clan crew made these awesome Halloween aesthetic app icons. Will you choose to accompany Coraline on her adventures in a deceitful parallel world? Or your aspen stake with silver bullets has not tasted vampire blood for a long time, and the mysterious Castlevania castle beckons you more? There's only one Halloween night a year, so make your choice quickly and give yourself some magic with our Halloween aesthetic app icons.
Dark Academia Aesthetic App Icons VS Witchy App Icons_
Do you know the difference between Dark Academia and Witchy aesthetics? These two unique app icon sets may give you many unexpected answers. Despite popular opinion, these two movements have some similarities. They both symbolize something extraordinary or unusual than just evil or bad. Moreover, these custom app icon packs have an indirect relation to Halloween. But Witchy aesthetic app icons include more traditional and charming elements. Whether Dark Academia's set with its skulls, gothic things and dark stuff illuminate some invisible Halloween energy. Hence you can give your phone a more traditional or hazy Halloween look.
Aesthetic Halloween Wallpapers_
Just like adults and children choose a new and unique Halloween costume each year, our team invites you to customize your smartphone with our amazing wallpapers.
You will find spooky wallpapers for every phone and taste. Grinning pumpkins, talking magic cats in witch hats, funny ghosts, mysterious bones and grimacing skulls, secret doors to intricately woven traps, gloomy castles with indestructible bats, and much more will surprise you in this creaky old Halloween chest.
Since Halloween is a great mix of religion, magic, marketing, and lots of other things, you can mix these awesome Halloween aesthetic wallpapers too to get something unique and new.
Spooky Halloween Wallpapers_
If spooky is the first thing that comes to your mind after the phrase Halloween, then this category is exactly for you. Dark haunted castles, full of bloody vampires, agile bats, and strange skulls are all here. Dare to plunge your smartphone into the abyss of scary Halloween wallpapers.
Black Halloween Wallpapers_
Black is an exquisite and absolutely mysterious color. It can hide something, and highlight something if you need it. Thus, each of our black Halloween wallpaper sets hides its own secrets and highlights others. You'll never know what lies behind the spider web or under the mask of No-Face Kaonashi until you look under it. With his dark soul and ideas, Bill Cipher can also take place in this dark Halloween wallpaper block. Just like a pink flame on the black background will be appreciated by glam Halloween followers. If black is your color, and Halloween is your day, then these black Halloween wallpapers are suitable for you!
Pop Culture Halloween Wallpapers_
Halloween nowadays is an inevitable part of pop culture in many countries. There are many festivals, concerts, movies, and cartoons dedicated to this spooktacular holiday. So, the appearance of popular characters in such a theme or in such looks does not raise questions. For example, Coraline – found the door to another world, and her life almost took the scariest Halloween scenario. Or Rick with the irresistible villain Jocker's face. He made his enemies and friends tremble with such an appearance. Dark Mark from Harry Potter's universe doesn't need any explanations. Simply remember the Hogwarts atmosphere on Halloween and you'll understand why it's here.
Aesthetic Halloween Wallpapers_
Did you know that the witchy look is one of the most popular Halloween costumes for many years? Right now you can add this charming trend to your smartphone too. Moreover, W-Clan squad offers you, as a special connoisseur, to choose from a couple of additional witchy aesthetic wallpapers, whether you can find – mushrooms for potions, a crystal ball to predict the future, and other necessary equipment for the most magnificent Halloween ever.
Cute Halloween Wallpapers_
However, Halloween it's not only scary items and terrific occult symbols. It can be also a cute and adorable holiday. If your small kids want to customize their gadgets, or you're tired of skeletons, witches, and zombies, you can use these cute Halloween wallpapers right now. It is not known for sure what happened with this cat, perhaps this is the result of unsuccessful witchcraft experiments, but the Halloween spirit it has for sure. Exactly like Mimikyu wallpapers. And they are here not by chance, because it's ghost pokemon, and in addition, it looks quite creepy. In company with Kuromi and Darth Vader, they will dive your smartphone into the Halloween atmosphere.
Halloween Aesthetic Folder Icons_
Not only your smartphone but your laptop too can be customized with our cool Halloween folder icons.
Not all people can spend Halloween day playing and chilling out at costume parties. For such occasion W-Caln crew prepared these custom Folder icons, so you can decorate your laptop and feel the magic of this holiday even at working place. There are two cool folder icon sets dedicated to Halloween that are available for free right now.
This pack doesn't contain creepy elements and monstrous pictures. However, it may be chosen by people, who associate Halloween with a magnificent fall atmosphere, but not with ghosts, witches and bats, while the next project is Halloween oriented 100%.
Despite the minimalist design, this set includes everything you need for transferring the Halloween atmosphere to your laptop. Press the download button, and be ready to get colorful folders with cute and spooky icons. So now, your PC can become a bunch of hocus pocus.
Halloween Aesthetic PFPs_
Show the whole world how you feel about this magical but frightening holiday with our unsurpassed Halloween PFPS.
There are numerous custom collections with your favorite characters related to this famous day on our website.
Anime Halloween PFPs_
Anime heroes enjoy Halloween too. That's why the W-Clan crew prepared three at once anime packs fulfilled with the Halloween spirit. Naruto, Bleach, Pokemon, MHA, etc. are here in Halloween costumes and ready for the unstoppable celebration. By the way, some of the characters look even cooler this way. Also, we would like to draw your attention to glowing eyes PFPs. Your account will jump to a new level with these Halloween PFPs.
Spooky Halloween PFPs_
Spooky Halloween PFPs are suitable for connoisseurs of creepy and classical Halloween stuff – like pumpkins, skeletons, and terrific costumes.
How about the well-known Ghostface PFPS for your profile decoration? It seems like the Halloween fright can be seen in his black eyes.
And what is Halloween without pumpkins and skeletons?
This Halloween PFPS aesthetic set can give you lots of inspiration about pumpkin carving and skeletons. These packs can help you, in case you don't know the difference between a lovely smile and a horrifying grimace, or how skeletons make selfies or dances. Moreover, these cool Halloween PFPs are TikTok, Discord, Facebook, Instagram, etc, compatible.
Cute Halloween PFPs_
If you don't want to turn your profile into the monstrous crypt and everything's cute make your eyes glow – this cute Halloween PFP is waiting for you! This Halloween PFP with famous Sanrio characters will light your heart up. These are unique examples of tough kawaii PFPS. You will be met there by Hello Kitty flying on the broom, or Cinnamoroll in a witch hat, or Kuromi in a ghost look.
As you can see the number of unique and custom Halloween products for your gadgets is not inferior to the variety of Halloween costumes you can find. Thus, creep it real, and choose the project you like, whether it's aesthetic Halloween icons or spooktacular wallpapers, or maybe bootiful PFPS with folder icons. They all are designed to make you smile and bring a piece of Halloween magic into your life. HAPPY HALLOWEEN!